Skyrim:Blade of Woe
The UESPWiki – Your source for The Elder Scrolls since 1995
Artifact: Blade of Woe (000964c9 and 0009ccdc)
Type
Dagger
Editor ID
DBBladeOfWoeAstrid and DBBladeOfWoeReward
Statistics
 Damage
12
Speed
1
Reach
0.7
 Weight
7
 Value
880
Enchantment

Absorb 10 points of health

Charge/Cost = Uses
500/76=6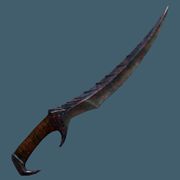 The Blade of Woe is a unique dagger belonging to Astrid, the leader of the only remaining Dark Brotherhood group in Skyrim. It can be received in three ways: pickpocketing from Astrid, killing Astrid during the Quest With Friends Like These..., or at the end of the quest Death Incarnate.
[edit]
Related Quests
The first version (000964c9) is the one used by Astrid; the second version (0009ccdc) is the one given to you.
You can pickpocket the Blade of Woe from Astrid during the quest With Friends Like These... using the Misdirection perk. You will then receive a second Blade of Woe at the end of Death Incarnate.
The Blade of Woe is the most powerful dagger in the game, but also the heaviest. Its burst damage is favorable to stealthy players.
No materials are required for tempering the Blade of Woe. Whether or not this is a bug or intended by the developers is not known.