Skyrim:Belyn Hlaalu
The UESPWiki – Your source for The Elder Scrolls since 1995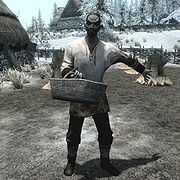 Belyn Hlaalu is a Dunmer farmer living in his house in Windhelm. He is also the owner of Hlaalu Farm, a small wheat farm just outside the city walls, and will pay you five gold for any wheat you might have harvested.
Belyn wakes up at 7am and stays in his house for three hours and enjoys his breakfast. At 10am he heads down to the Hlaalu Farm to oversee its functioning and help Adisla get some work done. At 6pm Belyn leaves the farm and visits the New Gnisis Cornerclub where he eats his dinner until 10pm when he heads home to his bed.
His outfit consists of the miner's clothes and boots. Belyn carries around the key to his house, along with a selection of common items and gold.
He is very proud of his farm and gladly shares his philosophy, saying, "The best way for us to win the Nords' respect is through hard work." He also comments that the other dark elves in Windhelm complain too much: "Too many dark elves in Windhelm complain about the way we're treated. What good does complaining do?" Lastly, he may say, "I'm proud of my farm. It takes no small effort to grow crops in this part of Skyrim." His employee at the farm, Adisla is seemingly getting too old to work the farm and will often complain, "Starting to get too old to work all day, but hopefully Master Hlaalu will let me slow down a bit."
[edit]
Related Quests
NOTE:
Some radiant quests have a nearly unlimited list of possible quest targets, or can be randomly initiated by nearly any NPC in the game. These quests are not placed on individual NPC pages, and are instead listed at
radiant quest NPCs
.