Skyrim:Alfhild Battle-Born
The UESPWiki – Your source for The Elder Scrolls since 1995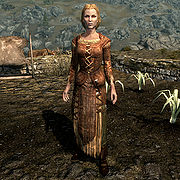 Alfhild Battle-Born is a Nord farmer and a member of Clan Battle-Born living in Whiterun. Jon Battle-Born is her brother, and her parents are Olfrid and Bergritte. She is married to Idolaf, with whom she has a son, Lars. She maintains Battle-Born Farm outside Whiterun and will buy leeks, wheat and gourds for a harvesting job well done.
When approached, she will often comment on the ongoing feud between the Battle-Born and Gray-Mane clans, saying, "This war's as stupid as our feud with Clan Gray-Mane." and "Need something? Unlike the rest of my family, I've got work to do." She may also reveal that her son Lars often gets bullied: "My boy Lars has been getting beat senseless, and by a girl, no less!"
Alfhid wears a set of farm clothes and a pair of boots, and is equipped with an iron dagger. She carries a key to the clan's house, a key to the clan's farmhouse, as well as a selection of common loot and gold.
[edit]
Related Quests