Skyrim:Agmaer
The UESPWiki – Your source for The Elder Scrolls since 1995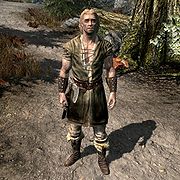 Agmaer is a Nord bandit found in Dayspring Canyon. He wants to become a vampire hunter but is too nervous to enter Fort Dawnguard alone. When speaking with Agmaer, he will explain why he wants to join the Dawnguard. "I've heard the rumors around Skyrim. I know something's going on. And I've seen the vampires. I felt I had two choices. I could either live in fear of the night, or I could help do something to help protect my people."
Initially, he wears a set of farm clothes with a pair of hide bracers and a pair of hide boots. Later, he dons a set of Dawnguard equipment, including Dawnguard heavy armor (brown version) with Dawnguard boots and Dawnguard gauntlets. He carries random leveled bandit loot, a torch, as well as a 25% chance of carrying 1-9 gold. He is equipped with an iron war axe which he refers to as his Pa's axe. Isran will talk to him after asking you to investigate Dimhollow Crypt.
Isran: "You there, boy. Stop skulking in the shadows and step up here. What's your name?"
Agmaer: "I'm, uh... my name is Agmaer, sir."
Isran: "Do I look like a "sir" to you, boy? I'm not a soldier, and you're not joining the army."
Agmaer: "Yes, si... Isran."
Isran: "Didn't I tell you to step forward? Hmm... Farm boy, eh? What's your weapon?"
Agmaer: "Uh, my weapon? I mostly just use my pa's axe, when wolves are attacking the goats or something."
Isran: ""My pa's axe", Stendarr preserve us. Don't worry, I think we can make a Dawnguard out of you. Here, take this crossbow and let's see how you shoot."
Agmaer: "Uh, crossbow? I've never..."
Isran: "Yes, a crossbow. Best thing for killing vampires. Just take a few shots at those crates over there."
Then he can be seen shooting targets with a crossbow after their conversation.
[edit]
Related Quests
If you have killed Durak before entering Dayspring Canyon, when you first meet Agmaer, he will be hostile to you.
When Agmaer shoots the steel bolts at the targets during his initial training, they never disappear. Agmaer will continue to shoot bolts until you return from any Dawnguard quest. This is a good way to get a lot of steel bolts early.