Skyrim:Aela the Huntress
The UESPWiki – Your source for The Elder Scrolls since 1995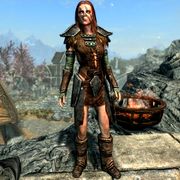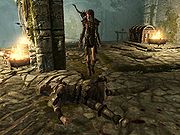 Aela the Huntress is a Nord werewolf and a member of The Circle. She may initially be encountered battling a giant with other Companions, Farkas and Ria. Depending on whether or not you engage in the fight, Aela will comment on it, but the Companions will always win.
Aela will tell you about the ongoing feud between the Battle-Borns and the Gray-Manes, and will encourage you to speak to the local publican about it. She will also tell you that, in order to join the Companions, you will need to speak to the Harbinger.
Aela is an expert trainer for Archery, given that you have joined the Companions. After completing Glory of the Dead in the Companions questline, you can opt to have her as a follower. She has rather a primal nature about her in appearance and attitude, owing to her history wandering the wilds along with her status as a werewolf.
Aela wears a set of ancient Nord armor, with matching pairs of gauntlets and boots. She is equipped with a Skyforge steel dagger and a hunting bow supplemented with 100 iron arrows. She carries a torch and a key to Whiterun's main gates.
Aela starts off her day by waking up at 8am. She hangs out in Jorrvaskr for two hours until 10am. After that, she consumes her lunch in Jorrvaskr's main dining hall until 1pm. After finishing lunch, she will sit and talk to the others in Jorrvaskr from 1pm to 3pm. Then, she will head outside of Jorrvaskr and train for three whole hours. At 6pm, she finally stops training and has her dinner for two hours outside of Jorrvaskr. She then has the rest of the evening free until midnight, when she finally returns to her room in the living quarters and sleeps from midnight to 8am, and repeats her schedule the following day. Once you have completed the Companions questline, she becomes a potential marriage candidate. You can buy a set of ancient Nord armor from her after she becomes your spouse.
[edit]
Quotes
Player: "Why did you join the Companions?"
Aela: "My mother was a Companion. And her mother. And all the women in my family, back to Hrotti Blackblade. I stayed with my father in the woods until I was old enough for my Trial. We hunted everything there was to hunt. Good training. Ma didn't live long enough to see me join, but I fight to honor her and all my Shield-Sisters through time."
Player: "Where do you stand on the war?
Aela: "Kodlak says not to worry about it. I worry that a bunch of snowberries are out there earning glory while we stay out of it. But I will follow the old man's lead. As ever."
Player: "Who are the Companions?
Aela: "An outsider, eh? Never heard of the Companions? An order of warriors. We are brothers and sisters in honor. And we show up to solve problems if the coin is good enough."
Player: "What does it mean to be a Companion?
Aela: "It means resting your haunches in Whiterun more than I care to, for one. But when it comes time to draw blood, there's no one in Skyrim I'd rather have at my back. It means waking up every day knowing that you could die, and having to earn your life by clawing for every breath. I don't know how those cozy lords manage to drag themselves out of bed every day. Why bother if you're not living?"
[edit]
Related Quests
Companions Questline
Companion Radiant Quests
Other Quests
Aela the Huntress is a member of the thief class, which determines the level of her skills.
As a follower, she can train you and you can simply trade back the gold.
She is the only member of the Circle that won't cure her lycanthropy after the quest line.
It is possible to encounter her hunting in the wild with another Companions member.
Her level will update during the quest "The Silver Hand", when she appears as a werewolf.
In the Dawnguard plug-in, you may regain lycanthropy once after completing the main questline by speaking to her.
Although her default gear is governed by the Heavy Armor skill, Aela is actually more proficient in Light Armor.
If you are married to Aela and choose to build a homestead with the Hearthfire DLC, then adopt children and move them and her into it, she will express disapproval at raising children in the wilds of Skyrim, despite her own upbringing in the wilderness. The only place she approves of is Solitude, the same as many spouses, stating that with so many guards on the street, she doesn't have to worry.
Aela may run up to you with her weapon drawn and repeatedly engage you in conversation, making any other action nearly impossible. This may be caused by you having a bounty and Aela's membership in the GuardFaction. ?

Paying off any bounties you have in all holds may fix this.
For a temporary fix, you can exit dialogue with her then immediately hit the "wait" button and wait for one hour. You may need to repeat this a few times until she goes back to her normal routines, allowing you to go pay off your bounties.