Online:Ogrim
The UESPWiki – Your source for The Elder Scrolls since 1995
This Online article is based on pre-release information.

This article should only contain officially released content, such as open beta and press release information.
Information from closed betas should not be included here, as this is a violation of the non-disclosure agreement for beta testers.
This information is subject to change at any time, and will be updated once the content is released.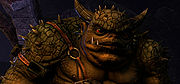 "The last thing many adventurers see is the fist of the brutish ogrim crashing down on them."
Ogrim are a type of enormous Daedra with very little intellect. They are sent into the mortal world to menace living things for the amusement of Daedric Princes, and are mostly associated with Malacath.
The ogrim in ESO are designed to be one of the toughest fights you will face. They mostly use hand-to-hand combat.
[edit]
Gallery