Oblivion:Kurz gro-Baroth
The UESPWiki – Your source for The Elder Scrolls since 1995
This page is currently being rewritten as part of the Oblivion NPC Redesign Project.
The page is being rewritten and checked in several stages. If you make an addition to this page, please update this template accordingly, but make sure you have observed the project guidelines.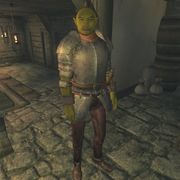 Kurz gro-Baroth is an Orc warrior living in the Chorrol Fighters Guild. He is a member of the Fighters Guild, and like his brother Lum, he spends most of his time practicing, either with an axe in the Guild basement, or with a bow in the back yard. When he's practicing archery, he's a good never-ending source of free arrows, as he never runs out, but keeps shooting at the target. Just collect them from the target before he does, and back off to let him keep firing.
Kurz lives the life of a dutiful Fighters Guild member, spending much of his time training while awaiting a new contract. He starts his day by heading to the Chorrol Fighters Guild at 6am. He will simply wander around the guild for 2 hours until 8am. At this point, he takes a seat at the table on the first floor and eats his breakfast for 2 hours. At 10am, he heads down to the basement of the guild where he will begin training on the practice dummy with his war axe. He will do this until 2pm, at which point he will leave the guild hall and go to the practice targets just behind the guild. He will equip his bow and arrows and shoot at the targets for 2 hours. He will then head back into the guild at 4pm and wander around until dinner at 6pm. He eats his dinner for 2 hours while seated at the table on the first floor. At 8pm, he will once again leave the guild to go to the Great Oak. He will wander around and gossip near the tree for 4 hours. At midnight, he removes his cuirass and will begin to seek out a bed. If he finds a bed, he will sleep for 6 hours. If he is unable to find a bed, he will continue to wander around the Great Oak and resume his schedule at 6am.
He wears an iron cuirass, leather bracers, laced leather pants and a pair of stitched leather shoes. He is armed with an iron war axe and an iron bow with iron arrows. He carries the key to the Fighters Guild and a small amount of gold.
He will introduce himself with "Things could always be worse. And probably will be. I'm Kurz gro-Baroth. What can I do for you?". If the player has not joined the Fighters Guild he will also say "You look tough. Want to join the Fighters Guild?".
Lum gro-Baroth will mention his brother Kurz's negative outlook on life saying, "I'm Lum gro-Baroth. The cheerful one. My brother, Kurz? He's not so cheerful."
Kurz gro-Baroth doesn't seek a specific bed when he wants to sleep. Instead he tries to find any bed he can sleep in which isn't owned by someone else.