Lore:Bestiary M
The UESPWiki – Your source for The Elder Scrolls since 1995
---
[edit]
Mammoth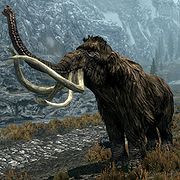 Large wooly beasts that are generally non-hostile unless provoked, generally found being herded across the tundra of Skyrim by giants. They are hunted for their meat and tusks. The giants produce mammoth cheese for food. Powdered mammoth tusk can be used in alchemy, but only the giants know how to grind the incredibly hard tusks down into powder, making the ingredient rare.
Found in:
[edit]
Medusa
The medusa is a creature with the upper body of a woman and the lower torso of a snake. It writhes along using its hands and body to wind its way through its lair. The aquatic Lamia is physically similar to the Medusa.
Found in:
[edit]
Minotaur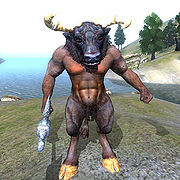 A half bull, half man creature. Commonly found roaming the wilderness of Cyrodiil.
Found in:
[edit]
Mistman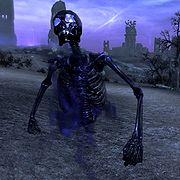 Mistmen are floating, ghostly undead found within the Soul Cairn. Mistmen have the ability to cast elemental destruction magic, though they will resort to punching should they run out of magicka.
Found in:
[edit]
Morphoid Daedra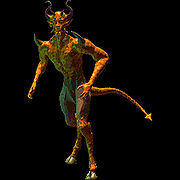 These Daedra are slightly intelligent hunters associated with Mehrunes Dagon and Hircine. Possibly somewhat related to the Hernes and the Scamps.
Found in:
[edit]
Mountain Lion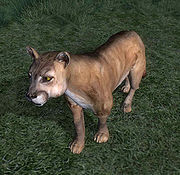 These wild cats are rapid and vicious predators that roam the wilderness of Cyrodiil.
Found in:
[edit]
Mudcrab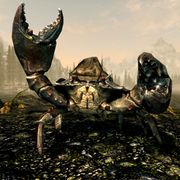 The Mudcrab (sometimes spelled Mud Crab) is a small, hard-shelled creature found throughout all shores. They are not typically aggressive unless cornered or provoked. However if they ever get the taste of meat they become hunters. Found in:
A more powerful form of undead which requires silver or better weapons to be harmed. Many adventurers have been stricken with horrible diseases after being injured by a mummy.
Found in: